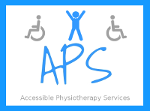 Meet the Team
Rachel Thurgood
Rachel is registered to practice physiotherapy with the Health and Care Professions Council (HCPC) and is a member of the Chartered Society of Physiotherapy (CSP). She is also a member of specialist physiotherapy groups.
She has over 15 years' experience of working in the NHS; working in hospitals, clinics, charities and in the community. More recently she has worked as a specialist physiotherapist in Learning Disabilities; working with adults with complex neurological and physical health conditions. Rachel has worked as a Practice Educator for Allied Health Professionals (AHP's) and continues to work closely with students from the local universities and provide supervision for health professionals in practice.
Keen to continue to develop Rachel has completed additional training in soft tissue massage, aqua therapy, Haliwick, posture management, Makaton, epilepsy, autism, moving and handling, falls prevention, End of Life care and first aid at work.
Rachel has good links with the NHS, private services, AHP's and other providers within the local community to ensure excellent coordinated care.